Christian doctor of 30 years loses job for refusing to use transgender patient's preferred pronoun
A seasoned British doctor lost his government job as a medical assessor after more than three decades because he refused to renounce his Christian belief that gender is determined at birth.
Dr. David Mackereth, 56, a National Health Service employee, was fired from his post at the Department for Work and Pensions in July because he would not use a transgender pronoun, saying he believes "gender is defined by biology and genetics" and the "Bible teaches us that God made humans male or female."
This week he lost his case before an Employment Tribunal in England, where the judge ruled his beliefs were "incompatible with human dignity."
'COLOR PURPLE' ACTRESS SUES AFTER BEING FIRED FOR VIEWS EXPRESSED ON SOCIAL MEDIA: 'THEY KNEW THAT I WAS CHRISTIAN'
Mackereth, who now works as an NHS emergency doctor in another city, said his supervisor pressured him to refer to a "man six foot tall with a beard" as "she" and "Mrs.," but the doctor refused.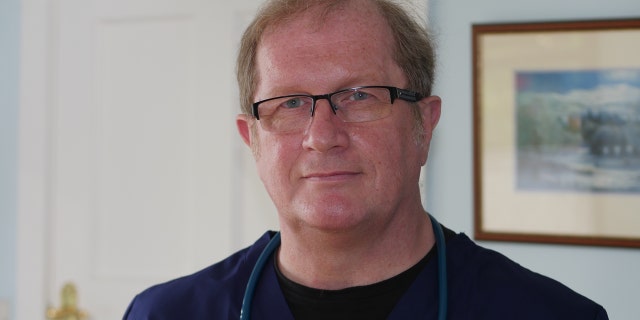 Dr. David Mackereth, 56, a doctor of 26 years in the NHS, lost his job for refusing to refer to clients by a transgender pronoun, citing his religious views and science. (Christian Concern)
"No doctor, or researcher, or philosopher, can demonstrate or prove that a person can change sex," Mackereth told Fox News. "Without intellectual and moral integrity, medicine cannot function and my 30 years as a doctor are now considered irrelevant compared to the risk that someone else might be offended."
Andrea Williams, CEO of the Christian Legal Centre, which represents Mackereth, said the judge put transgender rights ahead of all others, ruling a belief in the Bible is on par with Holocaust deniers and neo-Nazi ideologies.
IS IT LEGAL TO BRING YOUR BIBLE TO SCHOOL? LAWYERS WEIGH IN
"It is deeply disturbing that this is the first time in the history of English law that a judge has ruled that free citizens must engage in compelled speech," Williams said, adding the judge "ruled that Christianity is not protected by the Equality Act or the ECHR, unless it is a version of Christianity which recognizes transgenderism and rejects a belief in Genesis 1:27."
The court specifically cited the Bible verse the doctor referred to: "So God created man in His own image; in the image of God He created him; male and female He created them."
The tribunal wrote in its decision: "[B]elief in Genesis 1:27, lack of belief in transgenderism and conscientious objection to transgenderism in our judgment are incompatible with human dignity and conflict with the fundamental rights of others, specifically here, transgender individuals."
Mackereth plans to put up a fight.
CLICK HERE FOR THE ALL-NEW FOXBUSINESS.COM
"I believe that I have to appeal in order to fight for the freedom of Christians – and any other NHS member of staff – to speak the truth," he said. "If they cannot, then freedom of speech has died in this country, with serious ramifications for the practice of medicine in the U.K."
Meet The Navy Veteran Aiming To Beat Maxine Waters: Joe Collins
Joe Collins is a central LA born Navy veteran that is currently running for Congress against incumbent Maxine Waters in California's 43rd congressional district. His website claimed that after his launch he raised over $200k from people wanting to see Congresswoman Maxine Waters unseated.
His campaign is focusing on taking on the "lack of leadership" in Congress and to help President Donald Trump against the squad: Alexandria Ocasio-Cortez of New York, Ilhan Omar of Minnesota, Ayanna Pressley of Massachusetts and Rashida Tlaib of Michigan.
Watch Pen's Exclusive interview with the prospective Congressman Joe Collins.
Collins says his goal is to create "millionaires" in his district and to offer an alternative to the status quo that has dominated in the district since Maxine Waters has been Congresswoman.
"I appreciate what the President is doing by creating more jobs, but we need more business owners as well," Collins said, expanding on Trump's job growth.
Collins also mentioned the problem with Alexandria Ocasio Cortez being in Congress and called referred to her bartender background.
According to Collins' campaign website, Joe grew up in Texas and played semi-pro football.
Collins served in the military for over 13 years.
"Joe's passion to serve others started at an early age and earned him the nickname "GI Joe."
"Serving 13 and a half successful years as an Aviation Machinist Mate, Joe Collins worked and trained thousands of sailors on many types of aircraft including the F-18 Super Hornet, E6 Mercury, and the MH60 Sea-hawk. With the help of the US Navy, he also became a licensed financial professional. Joe's passion to help others also came in the form of becoming a Certified Counselor for rape and sexual assault victims," reads his campaign website.
"As a sailor in the US Navy, Joe served during the successful campaign, "Operation Iraqi Freedom". He also served in the recruiting duty area, where he earned numerous honors and awards. This was a role Joe enjoyed immensely, as he had the pleasure of jump starting the future careers for many of our young American leaders of today. "
Joe told us that his kids are jealous of him meeting the President and are proud of his campaign to run for Congress. You can visit Collin's site and help his campaign by clicking here.

John Kelly warned of impeachment for Trump if he hired 'yes man': 'I feel bad that I left'
Former White House Chief of Staff John Kelly said Saturday that he warned President Trump about a possible impeachment were he to hire a "yes man," allegedly pointing fingers at Trump's current acting Chief of Staff Mick Mulvaney and other advisers.
"I said, whatever you do — and we were still in the process of trying to find someone to take my place — I said whatever you do, don't hire a 'yes man,' someone who won't tell you the truth — don't do that," Kelly said at the Washington Examiner's Sea Island Summit political conference in Georgia. "Because if you do, I believe you will be impeached."
President Trump announced last December that Kelly, a retired four-star Marine general, would leave his post at the end of 2018 following a 17-month tenure in the administration. Kelly previously served as secretary of the Department of Homeland Security. It was widely rumored he was considering leaving his position as chief of staff.
"It pains me to see what's going on because I believe if I was still there or someone like me was there, he would not be kind of, all over the place," the retired general said Saturday, later saying that the "system" of advising the president so he can make informed decisions "clearly is not in place."
"And I feel bad that I left," Kelly added.
TRUMP BLASTS DEMS OVER 'SHAM' IMPEACHMENT INQUIRY 'BEHIND CLOSED DOORS': 'THEY CANNOT WIN'
Trump fired back at Kelly's statements Saturday, claiming his former chief of staff "never said that, never said anything like that."
"If he would have said that I would have thrown him out of office," Trump said in a statement Saturday. "He just wants to come back into the action like everybody else does."
White House Press Secretary Stephanie Grisham said Kelly "was totally unequipped to handle the genius of our great president."
GRAHAM LASHES OUT AT IMPEACHMENT INQUIRY: 'IF WE WERE DOING THIS, YOU'D BE BEATING THE SHI– OUT OF US'
Kelly, 69, said Saturday: "Someone has got to be a guide that tells [the president] that you either have the authority or you don't, or Mr. President, don't do it. Don't hire someone that will just nod and say, 'That's a great idea, Mr. President.' Because you will be impeached."
House Democrats in September launched an impeachment probe into President Trump after an intelligence community whistleblower filed a complaint that accused Trump of "using the power of his office to solicit interference from a foreign country in the 2020 U.S. election."
CLICK HERE TO GET THE FOX NEWS APP
The complaint centered around a July 25 phone call between Trump and Ukrainian President Volodymyr Zelensky. It alleged Trump pushed for a "quid pro quo," threatening to withhold military aid from Ukraine unless the country investigated 2020 presidential hopeful Joe Biden, his 49-year-old son Hunter and their business dealings in the country.
Democrats, spearheaded by House Intelligence Chairman Adam Schiff, D-Calif., have since issued a slew of subpoenas and requests for massive amounts of documents they say relate to the call, and Trump and others' interactions with Ukraine — including Trump's personal attorney Rudy Guiliani.
Kelly said Saturday he warned Trump "almost 11 months ago," adding that he had "second thoughts about leaving."
Donald Trump Campaign Organizing Army of Volunteers for 2020
President Donald Trump's re-election campaign continues to grow behind the scenes, fueled by Democrats trying to impeach the president and the unprecedented level of fundraising.
The Republican National Committee continues building the Trump Victory 2020 arm of the campaign, organizing volunteers and supporters of the president.
"This is the largest campaign in presidential history," a senior Trump campaign official said in a call with reporters, looking ahead to their organizational priorities for the 2020 campaign
The RNC plans to swell the deployed staff to one and a half times larger than 2016 and to have 2.5 times more volunteers.
"Our goal is to have 2 million volunteers plus between now and 2020," the official said.
The Trump army of volunteers is growing, they said, particularly after Democrats began their impeachment inquiry of the president.
"These rallies seem to have gotten bigger," he said, citing an uptick of new volunteers and people signing up for training in the last couple of weeks. "With this second witch hunt, this ridiculous talk of impeachment — I think it's getting people off the sidelines … this is making our job easier," the official said.
The campaign said that they were already organizing and training campaign fellows and super volunteers, helping the campaign engage local neighborhoods and volunteers with people who actually live there.
"Our goal is to have 90,000 Trump team leaders in 2020," the official said.
Campaign infrastructure in major swing states never left after Trump won his first election, the official noted, as the campaign worked to swell the number of registered more voters and organizing volunteers in the states.
"Voter registration is very difficult to do … it's extremely hard but our volunteers understand the importance of it," the official said.
The campaign recently triggered two separate tests of organizing capability, one in the special election in a North Carolina special congressional election and one in the Louisiana governors race, which both turned out favorable for Republicans.
The unique blend of Trump's massive headline rallies the night before the elections, plus campaign infrastructure allowed Republicans to experience successful results in thse states.
Party leaders expect to remain engaged in states the president barely won in 2016, such as Michigan, Wisconsin, and Pennsylvania. One official explained they never ended the field operations in those states, but rather focused on building it bigger.
"Because those states were so close, that's even more reason why we're there earlier than ever before," the official said.
The campaign is also looking to other states where they could be competitive in 2020 such as New Mexico, Minnesota, and New Hampshire.
In 2016, the campaign had only one paid staffer in Minnesota, who eventually was sent to Colorado, but the campaign was surprised that they almost won the state.
The president's record crowd rally in Minneapolis, the official said, was a sign of their organizing commitment to Minnesota for 2020.
Overall, the campaign appeared immensely please with the level of engagement from Trump's supporters thus far in the process.
"A lot of what we're seeing in the field, some of it is our volunteers that we've already trained, but a lot of what we're seeing in the states is organic," the official said. "I think that it just goes to show you just how upset voters are."